CANNONS-CONRAD is the eco-label of reference for the control, reduction and abatement of dust in all those contexts where the working environment is made unhealthy and dangerous by the presence of dust and odours.
Mantuan Macchedil has chosen to invest its 40 years of experience in the shipbuilding industry in the service of this green line, designing and building spray cannons in an accurate and forward-looking mannerby choosing high quality raw materials and accessories to ensure durable dust suppression systems with zero maintenance costs, thus creating the brand Conrad Cannons.
Nebuliser Cannons are cannons that generate a flow of air and water mist that once injected into the atmosphere weighs down the dust particles present causing them to fall to the ground.
The water spray can also be mixed with chemical perfume solutions to also reduce unpleasant odours.
The amount of water that is injected depends on the type and quantity of powder present, you generally try to use as little water as possible.
Initially, sprayers were accompanied by excavators equipped with demolition grapples, but the construction-earthmoving field, although indicated, has always been a very reductive field of application for this type of equipment.
In fact, nebulizers are used today in numerous fields:
Quarries, mines, construction sites, cement works, steel mills, waste storage, inert material recycling, odour neutralisation in landfills, wood and aluminium processing sites, wood chip factories, environmental remediation, stadium and event cooling and much more.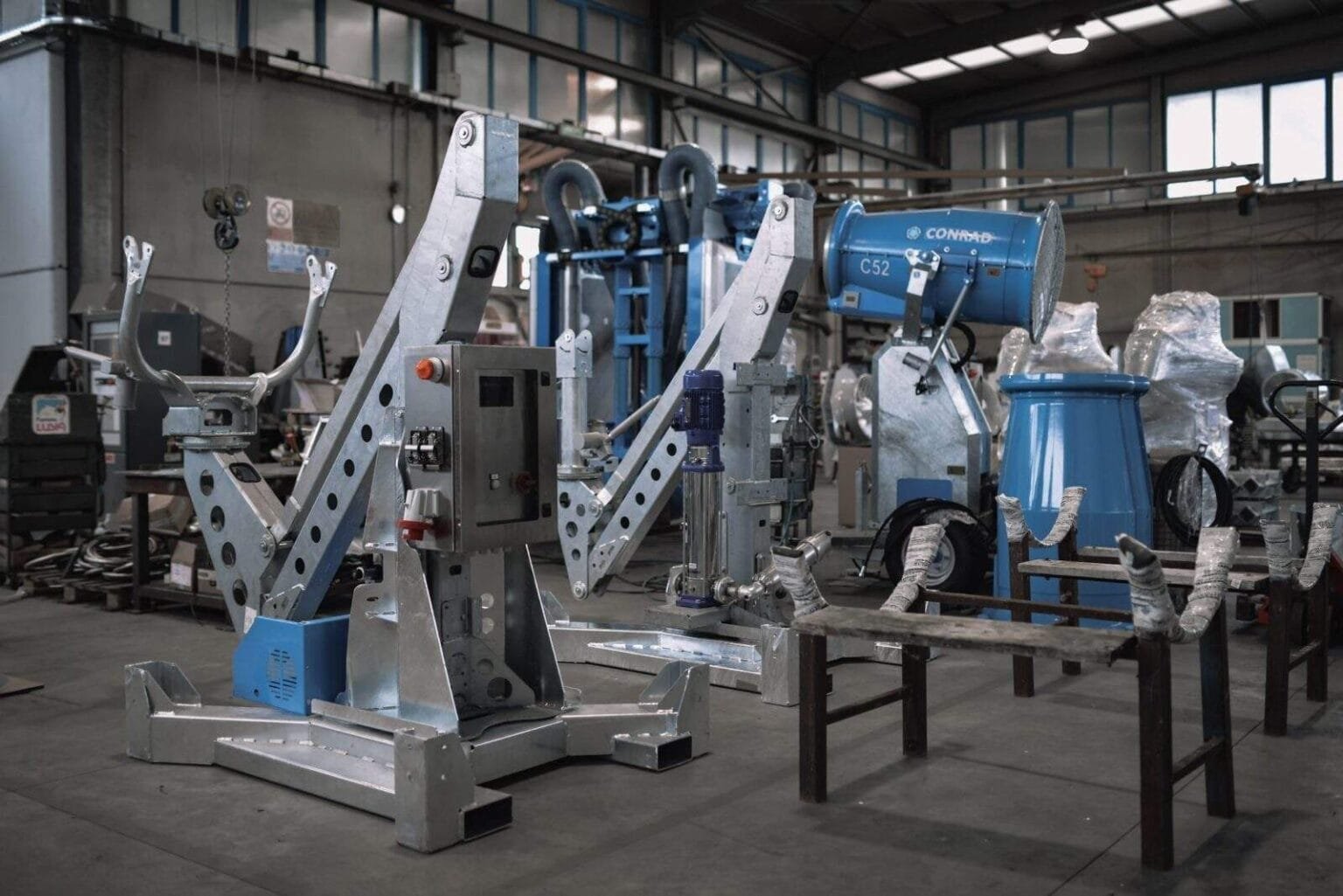 Electro-welded steel tube for maximum stability
Hot-dip galvanised frame
No structural parts made of press-formed sheet metalexcept for the covers of sensitive parts.
High-speed fans electronically constructed and calibrated.
IP65 electrical and electronic boxes.
The proper functioning of a Nebulizer Cannon is directly proportional to water quality introduced into it. The presence of a top-quality filter prevents failures of various kinds and extends machine life.
The filter chosen by CONRAD is 500×80 mm, the largest on the market.
It increases the effectiveness of the filter itself in cleaning the water.
Very accessible filter makes cleaning quick and easy.
we choose the stainless steel micro mesh filter cartridge, which allows a filtration degree of 250 µ- 60 mesh
The cannon can therefore be fuelled by all types of water: Industrial / Well / Fire Brigade / Purifier / Aqueduct / Reservoir
3 separate channels ensure balanced water distribution using the same water pressure at each nozzle.
Cast aluminium channels. Result: all nozzles have the same pressure, increasing the machine's performance and ensuring an even spray pattern.
INTEGRATED ELECTRICAL RESISTANCE
The integrated electrical heating element allows the crown to be heated and working even in sub-zero temperatures.
The filter and the crown together represent the beating heart of the machine.
Contact us and request a quote
Use this form to enquire about a spray gun or directly request a quotation for the powder you need to shoot on site.
We will contact you as soon as possible!