Our most powerful machine, simply beyond expectations!
C62 is able to suppress dust and odors in every kind of hostile contexts without any difficulty. C62 gives you the chance to select the number of active nozzles, depending on the type of spray intensity you wish to obtain. The most reliable product on the market.
ON POLE
The dust fighter CONRAD C62 equipped on a galvanized pole is the ideal dust suppressor c for construction sites and long-term work sites. 
Dimensions: 150 x 120 x 220 cm
Weight: 450 kg
ON TROLLEY
The CONRAD C62 on wheels is indicated in all temporary building sites, in demolitions and in the rental market. It is possible to choose two types of trolley, the compact and the larger one. They are composed of 2 or 3 pneumatic wheels, shaft and stabilizers. Housing for forklift forks always included ensuring easy transport in site.
Compact trolley dimensions: 155 x 210 x 240 cm – kg. 620
Larger trolley dimensions: 325 x 210 x 240 cm – kg. 620
ON ARTICULATED ARM
The fog cannon CONRAD C62 mounted on an articulated arm reaches 5,5 meters high and ensures maximum precision in dust reduction.
Dimensions: 120 x 260 x 212 cm – 700 kg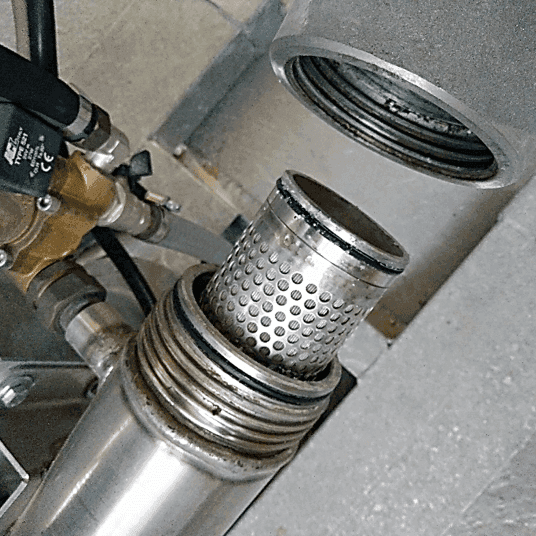 WATER and CANNONI CONRAD
CONRAD filtration system for incoming water is the best on the market and uses a stainless steel filter cartridge, 500 mm length x 80 mm diameter. Inspectable triple micro-mesh stainless steel filter.
This allows you to use any type of water to feed the cannon: industrial, well, VVF ring, purifier, aqueduct, rain collection…
All CONRAD cannons are equipped with a vertical and self-priming pump for gravity feeding, therefore no inlet water pressure is required.
AUTOMATIONS
2 aluminum crowns heated with electric resistance for sub-zero operation.
Integrated electronic PLC to control all automatisms with an intuitive touch screen panel:

control rotation from 0° to 340°;
control tilt angle from -20° to + 45°;
selection of nozzles in action;
articulated arm up/down movement;
weekly work programming (3 daily start / stop cycles).

Automatic water emptying (avoidable function)
Type of nebulization settings:

thin nebulization (for wood dust or similar)
thicker nebulization (perfect for demolitions)
OPTIONALS
Odor suppression: electric metering pump for mixing the chemical product for odor control (chemical product not included)
Radio Remote control ON-OFF radio-remote control with 12 function buttons, battery charger. Range distance 100 m.
Anemometer integrated with PLC.
Customized turbine color.
Atex components on request based on the level required.
WASTE TO ENERGY PLANT
The dust fighter CONRAD C62 on galvanized pole is used to reduce dust and odor from waste handling – Ferrara – Italy
LANDFILL
The dust suppressor CONRAD C62 on trolley to eliminate the dust in the landfill of unsorted waste – Prato- Italy
WOOD PROCESSING SITES
This water nebulizer CONRAD C62 is fitted with pincer support on 12 meters high to neutralize the wood dust in loading area – Urbania – Italy