Dust Suppressor - CONRAD C50
CONRAD C50 is a new model with a 50 m. throw, meant to solve every dust production problem in building sites,
quarries, steel plants and cement factories.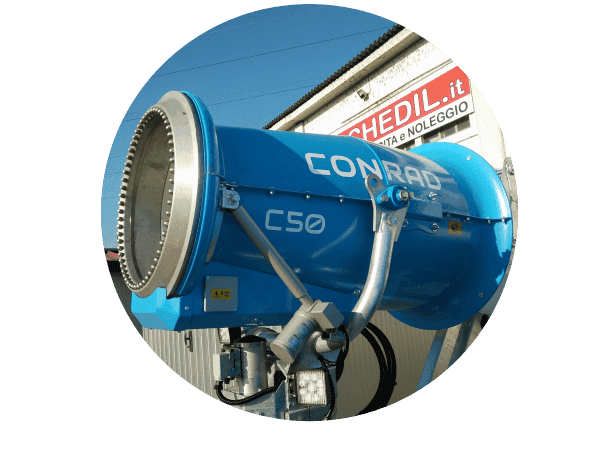 AUTOMATIONS
2 aluminum crowns heated with electric resistance for sub-zero operation.
Integrated electronic PLC to control all automatisms with an intuitive touch screen panel:

control rotation from 0° to 340°;
control tilt angle from -20° to + 45°;
selection of nozzles in action;
articulated arm up/down movement;
weekly work programming (3 daily start / stop cycles).

Automatic water emptying (avoidable function)
Type of nebulization settings:

thin nebulization (for wood dust or similar)
thicker nebulization (perfect for demolitions)
OPTIONALS
Odor suppression: electric metering pump for mixing the chemical product for odor control (chemical product not included)
Radio Remote control ON-OFF radio-remote control with 12 function buttons, battery charger. Range distance 100 m.
Anemometer integrated with PLC.
Customized turbine color.
Atex components on request based on the level required.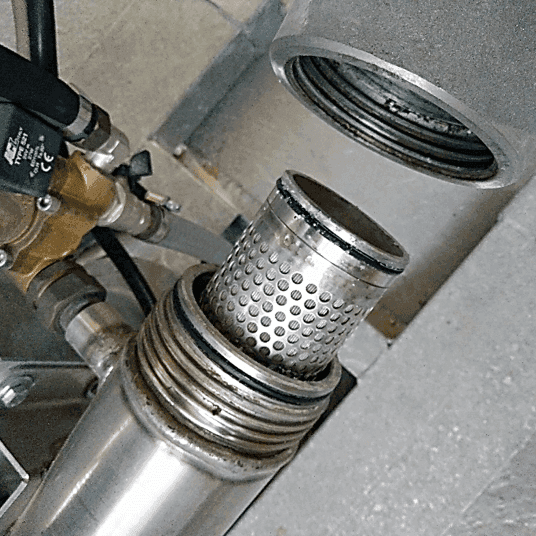 WATER and CANNONI CONRAD
CONRAD filtration system for incoming water is the best on the market and uses a stainless steel filter cartridge, 500 mm length x 80 mm diameter. Inspectable triple micro-mesh stainless steel filter.
This allows you to use any type of water to feed the cannon: industrial, well, VVF ring, purifier, aqueduct, rain collection…
All CONRAD cannons are equipped with a vertical and self-priming pump for gravity feeding, therefore no inlet water pressure is required.
The fogcannon CONRAD C50 equipped on a galvanized pole, powered by a high-pressure pump.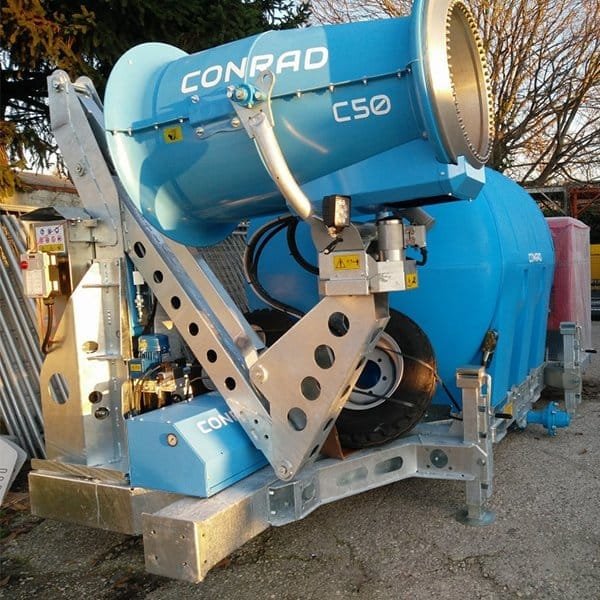 The dust fighter CONRAD C50 on articulated arm installed on an autonomous dust suppression system.
The dust suppressor CONRAD C50 on articulated arm: working height reachable up to 550 cm
DEMOLITION
Dust suppression system Conrad C50 works to reduce dust during demolition – Rome- Italy