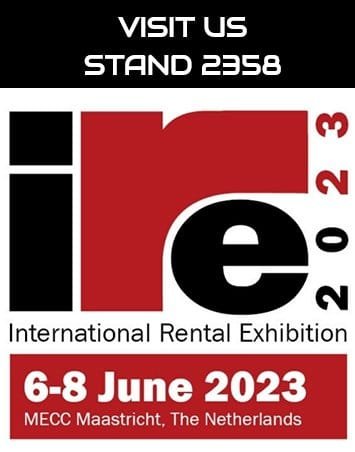 The International Rental Exhibition (IRE) and the Aerial Platform Exhibition (Apex) are preparing to make their return 6 to 8 June in the traditional location of the MECC in Maastricht.
It is possible register for free to Apex and IRE on their respective websites. Registration for one of the two fairs also grants entry to the other.
An unmissable event for renters from all over the world.
Cannoni-Conrad is present with its selection of dust suppression spray cannons perfect for the rental fleet:
 - Easy to use
- High performance
- Manoeuvrable and easy to load, even onto smaller trucks
- Water pump inside each machine (no need for external water pressure)
- PLC for automatic programming of rotation and work cycles
- Low consumption
- Fast maintenance
All our machines are designed to be intelligent and high-performance, always with the end customer's needs in mind: easy to use, easy to move.
From our 40 years of experience in the sale and rental of demolition, earthmoving and construction machinery, we have since moved into other fields such as inert recycling, quarries, waste recycling and many other different dust and odour control applications.
click and read our newsletter
Edition 2023 Rental and Hoisting Trade Fair: IRE | APEX from 6 to 8 June 2023 at MECC - Maastricht - The Netherlands
Pictured are Celine Finco (Marketing Manager) and Emanuele Rastelli (Sales Manager)